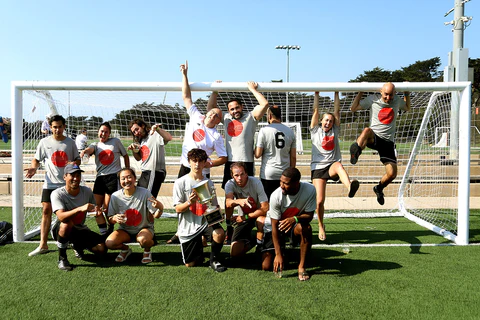 Robert with the Coffee Bar Team, Scores Cup Fundraiser Champs
BORN - Queens, New York
LIVES - San Francisco, CA
HAPPY PLACE - On a court, pitch, patch of grass, anywhere a game is happening!
PLAYS - Soccer, tennis, paddle tennis, stand-up paddle, Crossfit, and I'll try any sport!
WHAT'S IN ROBERT'S TRUNK? - soccer ball, soccer shoes, a paddle, sneakers, a towel, water, and of course, CBD.
ROBERT'S NEXT ADVENTURE- going to Venice Beach, Los Angeles, to play a paddle tennis national tournament.
Roberts Daily CBD Routine:
MORNING: Take 75ml of Anytime Recovery CBD Oil upon waking, apply warming stick to problem areas (shoulder and wrist), apply freeze gel to my swollen ankle.

AFTERNOON: Take a CBD Energy + Focus Gummy (30mg CBD) around noon, and another around 5pm.

EVENING: Take 75ml of CBD Sleep Oil 30 minutes before bed, for a total of 210 mg of CBD daily.
The Origin Story
I grew up in New York City, in a blue-collar section of Queens surrounded by cemeteries and airports, not far from Shea Stadium and Flushing Meadows (U.S. Open tennis anyone). The rumble of a subway or a boulevard was ever-present. All I wanted to do after school was play sports. With limited space, we played on a golf course (fore!), on a side street (game on, game off), on the lawn of a corporate building (we outran security), and wherever we could. I didn't go home until It was dark or I was starving. The joy of sports, of movement, of a youthful body, I remember it well. High school sports (soccer, tennis, track) led to college tennis and a tennis career after college into my late 30's. I enjoyed every minute of being active and playing sports. Then suddenly things changed…
As I approached 40 years old, my body started to let me down. I walked with a limp and had aches and pains after workouts. I sprained both ankles several times. Often I couldn't fall asleep as dull aches kept me up. I snapped my Achilles tendon, which put me out for months. Initially, I accepted all of it, "I ran a million miles on concrete and now I'm paying the price". All of this bad news depressed me; I wanted to play competitive sports until I was 75 years old, yet, in my forties, I couldn't perform simple pain-free movements like tying my shoes. I thought, "This can't be how it ends!"
Robert's CBD Journey
Wanting to change my circumstances, I started a journey to try some new things. I worked with physios, mobility coaches, and acupuncturists. I tried cryo chambers, foam rollers, compression boots, percussion massage guns, and an anti-inflammatory diet. Eventually, I added CBD hemp products to my recovery routine and noticed a significant improvement.
I was initially skeptical about all the hype around the benefits of CBD: CBD for muscle pain, CBD for sleep and CBD for joint pain. I gave it a try and once I got my CBD dosage right, things got better fast.
The Beginning of Yellow Athletic
After my incredible experiences using CBD, I began sharing my story with friends and fellow athletes. Any active person over age 30 seemed to have aches, pains, inflammation, or trouble sleeping.
CBD has been exploding in popularity, but I saw an opportunity to do things better. It was time to provide a brand that was honest & transparent, focusing on athletes and active people. CBD products on the market are general in nature, weak and sometimes use low-quality ingredients. Yellow Athletic CBD specifically targets athletes; our high-potency formulas and quality third-party tested formulations take our products to the next level.
I built this company with people like me in mind. I am the people we're trying to help, and I'm inspired to make Yellow Athletic the best possible CBD company. Thank you for the opportunity to share Yellow Athletic with you!
With Gratitude,
Robert