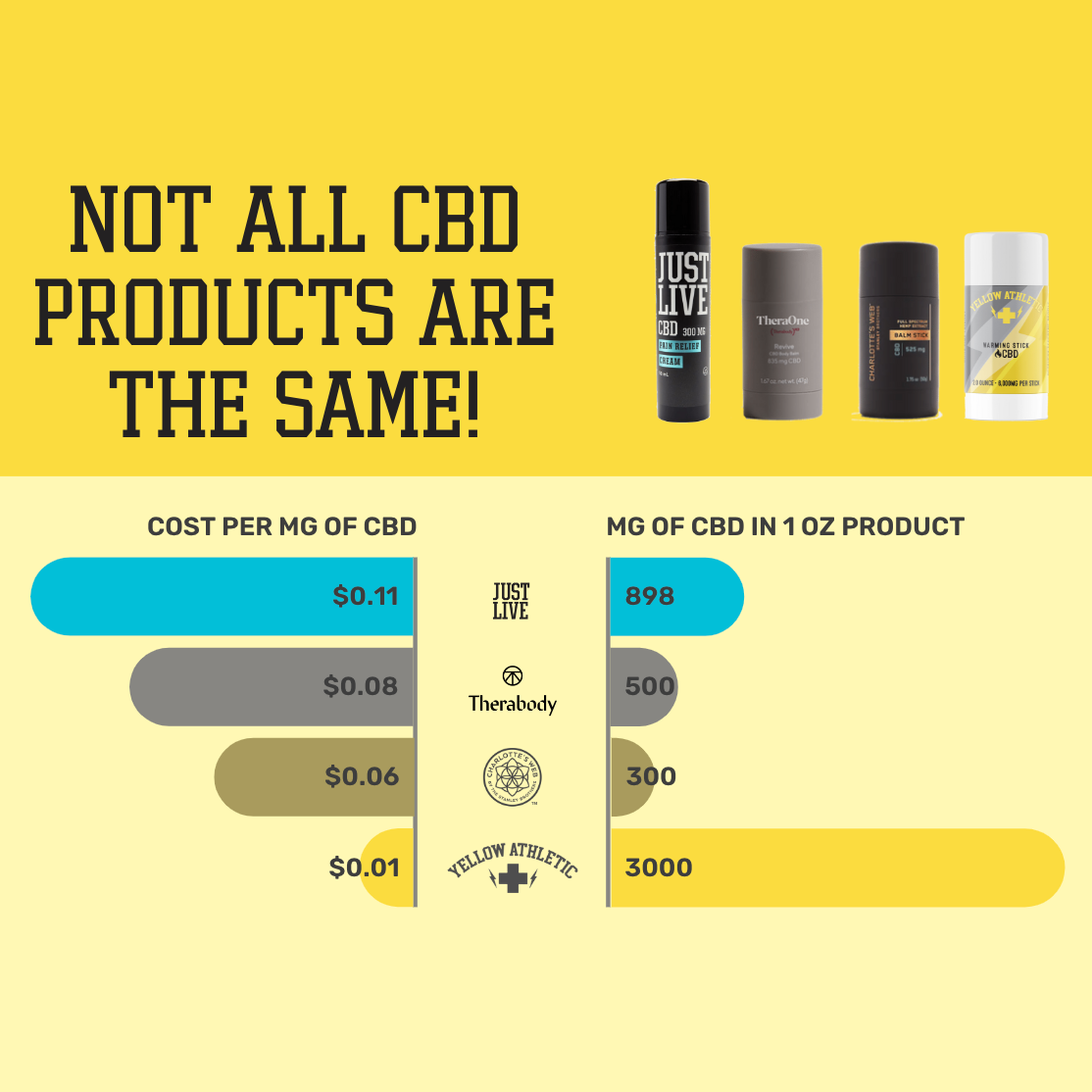 If you're an athlete or active person looking to find a
CBD product
, the choices and terminology can be confusing and overwhelming. In this article I will help you navigate the options and answer some common questions:
What kind of CBD is best for athletes?
What are the benefits of CBD for athletic recovery?
Can CBD Oil help me sleep?
How can CBD help me recover from sports injuries?
What CBD is best for me?
The good news is that CBD does help athletes recover faster! Before choosing any CBD company or products, let's start with the basics and make sure you evaluate the following:
Independent third-party laboratory testing is how you know the products you are buying are pure, and of the best quality. The Certificates of Analysis (COA's) should indicate that the products have no contaminants, heavy metals, or pesticides. The company should be confident enough in their results to make them available on its website.

In addition to Third Party Testing, knowing where the hemp going into the product is grown, is an added assurance of its quality and purity. Look for organic hemp grown in the United States. Yellow Athletic uses hemp from Oregon, considered amongst the best hemp regions in the world.

Quality companies make their products in facilities with the highest manufacturing standards using the Good Manufacturing Processes (GMP) protocols and have GMP certification. Look for the GMP certification seal on websites and product packaging.

All natural ingredients should be used. In Yellow Athletic products, you'll find lots of good things such as turmeric, ginger, lion's mane, arnica, clove, ginseng, Vitamin B-12, terpenes, and of course, the best hemp on earth!

Look for a company team that includes medical advisors. Yellow Athletic has a Doctor and an Eastern Medicine/Acupuncturist as company advisors.

You want Honesty and Transparency from the companies you buy from. Look for: favorable reviews. Do they show their leadership team on the website and provide an address and contact information? Do they offer customer guarantees such as 100% money back?

Is the company progressive and at the forefront of learning and development? Yellow Athletic products have True Terpenes, botanicals, and Vesisorb; cutting-edge additions to products that make them potent and effective.
Next steps…are you getting a good value?
Once you are confident that you are dealing with a reputable company, potency is an important consideration. Do the products have enough CBD and other ingredients to ensure the best opportunity for them to solve your problems? Athletes need very high-potency products. You can see in the charts at the top of this post how Yellow Athletic compares with well-known brands such as Just Live, Therabody, and Charlotte's Web. Yellow Athletic products are up to 10x (yes you read that correctly) more potent than the competition. And, with CBD being expensive, the cost per milligram of CBD (a standard comparison to determine value) is up to 11 times cheaper. It is essential to pay attention to how CBD products compare.
Why Choose Yellow Athletic?
Yellow Athletic's all-star products are more potent and have far better value than well-known brands. But it gets better. Yellow Athletic adds True Terpenes, derived purely from nature, to target specific product benefits. It is said that CBD is the car, and terpenes are the steering wheel. For example, while CBD can help you get a better night's sleep, adding a Sleep Terpene Profile will significantly enhance these effects.
Compared to the competition, Yellow Athletic is the clear winner. It's a knockout!!!
A note on calculations: Comparing products with different amounts of CBD and various container sizes can be challenging. An illustration of how Yellow Athletic calculated potency and cost per milligram, as shown in the comparison graphic at the top of the page, will show you how to do it. Yellow Athletic's warming stick has 6,000 mg of CBD in a 2 oz stick. To calculate the amount per 1 oz, divide 6,000 / 2 oz = 3,000 mg CBD per 1 oz. Therabody, for example, has 800 mg of CBD in a 1.67 oz stick, so 800 / 1.67 = 500 mg of CBD per 1 oz. By converting both products to CBD per 1 oz, you can easily compare the two with Yellow Athletic's 3,000 vs. Therabody at 500. You can use the same approach for cost per mg of CBD. Yellow Athletic has 6,000 mg of CBD for $79.99; divide $79.99 / 6,000 = $.01 per mg of CBD compared to Therabody's $.08 ($66.80 / 835)
Learn more about these topics by visiting Yellow Athletic's other blog posts:
Blog Post - Using CBD for Athletic Recovery
Blog Post - Dosage: how much CBD should I take?
We're here for you! Have more questions, email us: hello@yellowathletic.com